LifeVac is a patented life-saving device proven to be the most effective way to help a child or adult during a choking emergency. The Proven No. 1 Solution For Choking Emergencies

Includes:
3 masks: 1x pediatric mask 1x small mask and 1x large mask
LifeVac - Home Kit

2x LifeVac - 1 + 1 for 50% off

2x LifeVac - 1 + 1 for 50% off

4x LifeVac - 3 + 1 FREE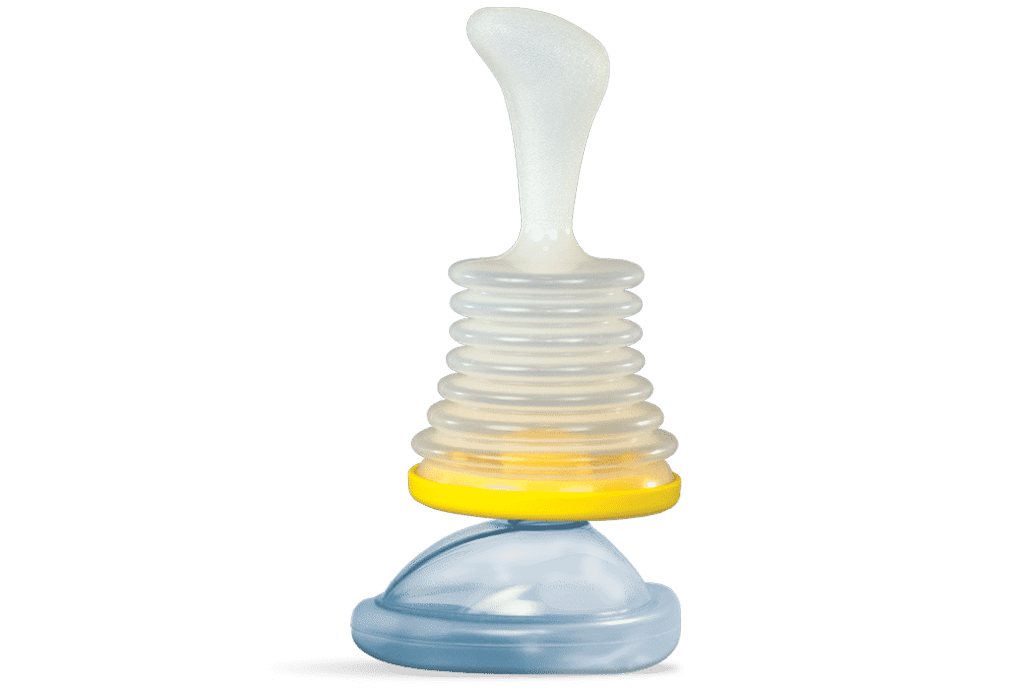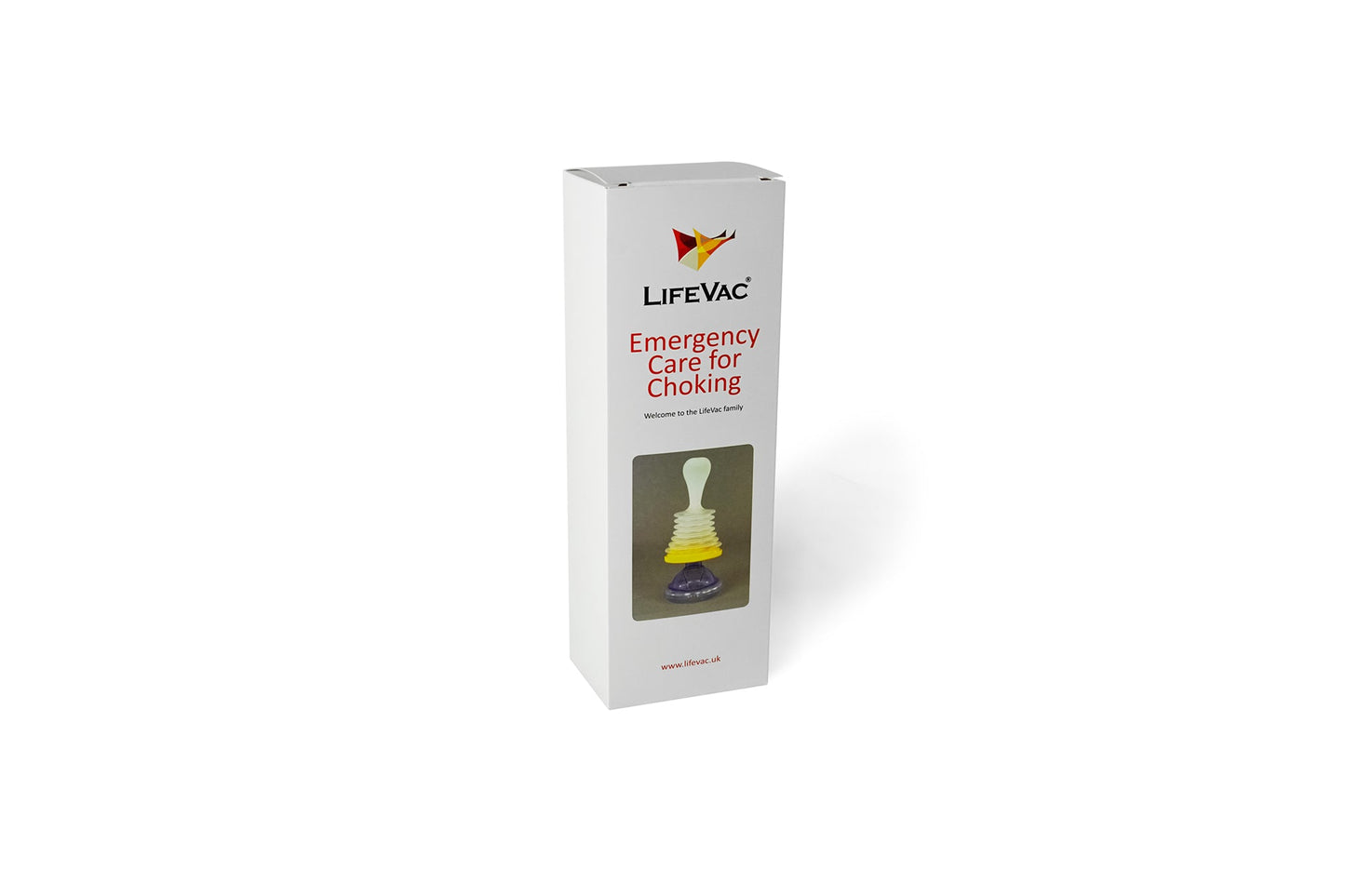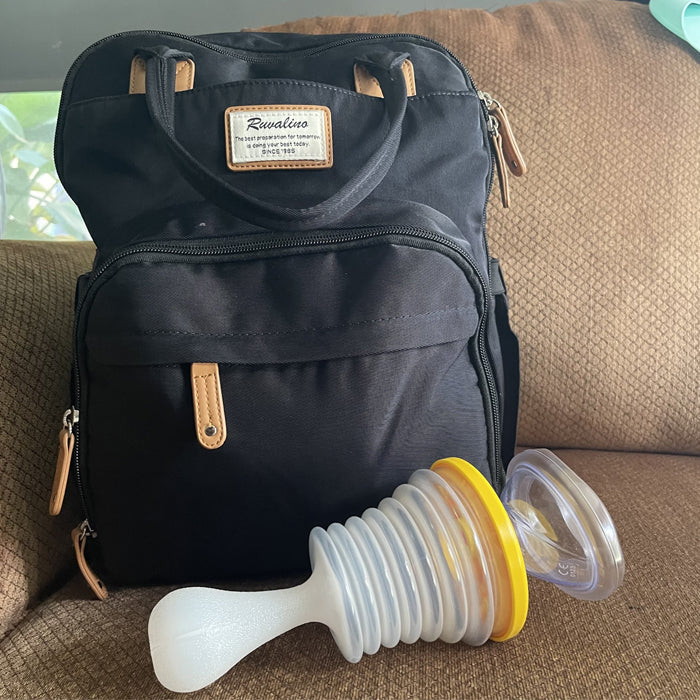 LifeVac Saved already 1536 Lives to date.
See how it saved these people.
LifeVac has a unique one-way valve that doesn't allow any air to enter a choking victim on the downward motion, which makes it impossible for the obstruction to be pushed down further into the windpipe.

Just place the mask over the mouth and nose of the victim. Press down to create suction. The duration of the suction is minimal, which makes LifeVac safe and effective. Now pull back up, and the obstruction will come out of the victim's throat.
Save A Life In 3 Simple Steps
Place

Place LifeVac over the mouth and nose to create a seal.

Push

The one-way valve prevents air from pushing food or objects downward when pressed.

Pull

Then simply pull to create a one-way suction to remove the lodged food or object in seconds.

Think of LifeVac like a fire extinguisher.

Hopefully you never need it but you should ALWAYS have one.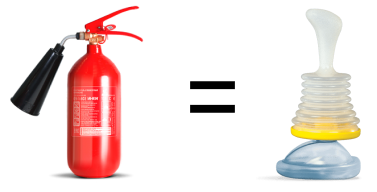 Frequently Asked Questions
When you use Lifevac, can it push the obstruction further down?
No. Thanks to LifeVac's patented one-way valve system it's simply impossible to push the obstruction further down while using it. When you push down the air doesn't pass through the mask. Instead, air goes out through the side of the one-way valve. When you pull up again, it creates the suction effect needed to safely clear an obstruction in a choking emergency.
Can LifeVac be used on anyone that is choking?
LifeVac can be used to help protect all family members.

The LifeVac is equipped to use on children as small as 10 kg (22 pounds) or heavier, utilizing the child mask. The adult mask is for use on full-sized adults and seniors. Both the child and adult masks are included in every Home Kit and Travel Kit.

Unlike the traditional Heimlich Maneuver, LifeVac is also effective on those with illness, disorder, medical, or other health-related reasons.
Can LifeVac be used more than once?
Yes and no... LifeVac can be used multiple times if the obstruction is not dislodged on the first application.

But the LifeVac device is a one-time-use-only apparatus. LifeVac should be replaced after use in a choking emergency.

There are two main reasons why we replace the LifeVac unit after it has been used:
1. To avoid a damaged LifeVac. We don't know how the LifeVac unit has been handled during a panic situation.
2. For hygienic and safety reasons. We don't know how the LifeVac was cleaned after a choking emergency. When cleaned incorrectly or with certain cleaning agents, this might cause damage to the device.

That's why we choose to replace every unit that has been used with a new one for FREE. 

If you've had to use LifeVac in a choking emergency and it has saved the victim's life, please contact us at contact@life-vac.eu to fill out our Saved Life Report. After contact is made, we'll gladly send you a brand new LifeVac free of charge.
Does LifeVac have an expiration date?
No, the LifeVac one-way valve doesn't have an expiration date. This means the LifeVac kit covers your entire family for life. If you have to use it, we will replace it absolutely free.
Can I use LifeVac on myself?
Yes! One of the best things about LifeVac is that it can be self-administered (and is highly effective) during a choking emergency. It has already been used this way to save a life.
Is LifeVac safe on children?
Yes! The LifeVac is equipped to use on children starting around the age of 1 year. They should weigh a minimum of 10 kg (22 pounds)
Do you have proof that the LifeVac will work and is safe to use during a choking emergency?
Yes, LifeVac can proudly say it is the only airway clearance device or suction device with independent medical testing, peer-reviewed medical publications and medical abstracts proving safety, effectiveness and lives saved.

This may not mean much to the average person, but in the medical field this is extremely important as it is very dangerous to use something in an emergency that might not work in the time of need.

LifeVac is an FDA, Canadian Health Service, MHRA and CE registered medical device for sale.
I found a LifeVac at a lower price
If you've found a LifeVac somewhere else at a fraction of our price or in a different color and you are thinking of buying… be warned, you are not buying a real LifeVac!

Sadly, there are cheap knockoffs in circulation from companies stealing our patented design and manufacturing it in China with cheap materials.

We strongly discourage anyone from buying these fake products. They can be extremely dangerous as they don't comply with EU regulations, haven't been tested by independent studies, and therefore aren't proven to work, and might fail in a choking emergency…

At http://lifevac.eu , we are the official LifeVac seller in Europe, and we guarantee you a 100% original LifeVac at the lowest price possible.

Every LifeVac is manufactured in Europe with premium materials and goes through extensive manual quality testing to guarantee its effectiveness. LifeVac complies with all local and EU regulations and has been medically proven to be the safest, most effective, and easiest-to-use airway clearance device in the world.

Best of all, LifeVac has no expiration date. One kit covers you and your family for life. If you have to use it, we will replace it absolutely free.
When can I expect my order?
2-4 business days after you placed your order. You will also receive a track & trace code.

If you do not see an email after ordering please check your spam folder.
Can I get a discount if I order more than one LifeVac?
Absolutely! We created a special offer on this website with discounted bundles so you can order multiple LifeVac devices at the best price possible.

Remember, LifeVac is like a fire extinguisher – having one when you need it is critical. Instead of constantly remembering to bring one with you – have a LifeVac at home, keep one at school or work… so you always have one in case you need it.
Can LifeVac damage the lungs and body of a choking victim?
No, LifeVac has been independently tested and is proven to be 100% safe to use. The place, push, and pull motion only creates the necessary amount of suction needed to remove the obstruction and does NOT cause damage to the lungs and body of the choking victim.

To illustrate this further, LifeVac has a suction volume of 200ml. If you compare this to the volume of a lung, which, after completely exhaling, is 1200ml, you can easily see that LifeVac only uses the suction force needed to remove an airway obstruction.

After saving 1536 lives with zero negative cases, we can confidently say it's safe to use.
Order Now
- Free replacement if you have to use it -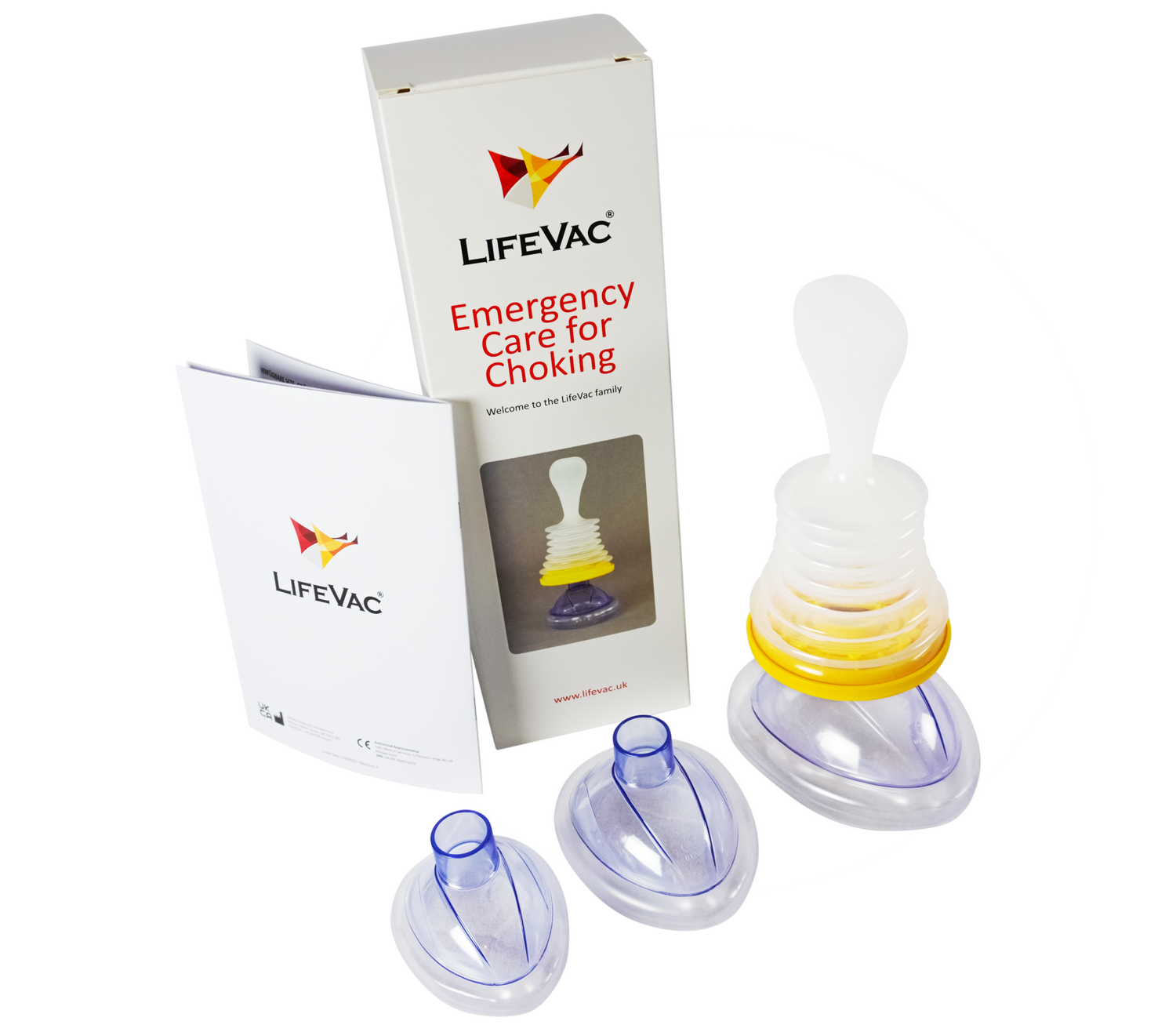 Always Be Prepared.
Get LifeVac Today.
One LifeVac kit covers your entire family for life. If you have to use it, we will replace it for absolutely free.
Get large Discounts On Bundles - Get huge savings when you order more than one. We recommend keeping a LifeVac at home, in the car, at school or at work, so you always have it when needed.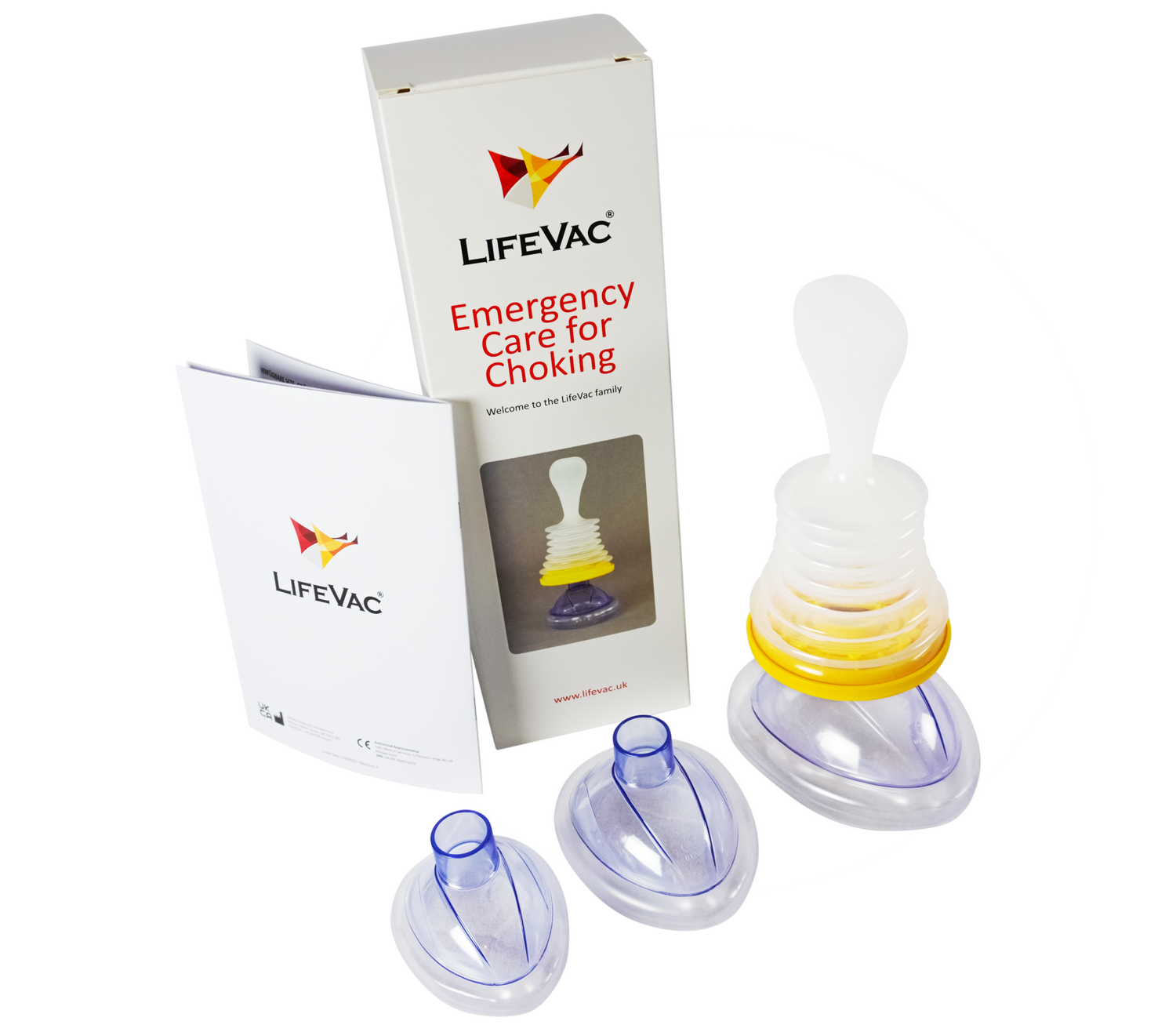 Order Now
- Free replacement if you have to use it -